Grab your mittens, bundle up, and explore the winter wonderland of West Michigan. Enjoy the fresh powder on the ski hills, take a snowshoe hike through the woods, or twirl around on the ice rink. If staying warm inside is more your plan, you'll find wineries with welcoming seasonal treats, specialty shops with locally made goods, and cozy fireplaces to sit and enjoy some hot cocoa.
Scroll down for information on some of our favorite winter activities in West Michigan to help celebrate the season.
Create Your Own Winter Adventure in Mecosta County!
Experience our beautifully landscaped trails perfect for snowmobiling, snowshoeing, or cross country skiing. If you are looking for a scenic view or a challenging adventure, we have the trail that is right for you. Explore over 100 lakes, numerous streams, and of course the mighty Muskegon River for an extraordinary ice fishing adventure. Enjoy amazing lodging facilities and restaurants along with unique shops and gifts. Create Your Own Winter Adventure today at BigRapids.org.
Experience adventure by choice or by chance this winter in Mt. Pleasant. For winter fun inspiration, check out Winter in Mt. Pleasant, featuring indoor and outdoor activities, delectable dining options, annual events, and more! Looking for personalized guides based on your interests? Check out our blog, offering a look into local favorites, seasonal guides, and more! We invite you to join us to celebrate our cherished lifestyle and meet in Mt. Pleasant this winter.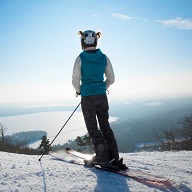 Embrace Your Journey to Michigan's Keweenaw Peninsula!
No one arrives to the Keweenaw by accident. It's a destination off the beaten path that requires an explorer's heart and a sense of adventure to reach. But each winter, escapists flock to the Keweenaw's pristine backcountry to celebrate the 270+ inches of snow that blanket Mount Bohemia's extreme backcountry and gladed ski runs as well as the 230 miles of prime snowmobile trail which flow through conifer forests and along Lake Superior shorelines. Discover your journey at Keweenaw.info.
Ranging from easy to difficult, cross-country and free-style skiiers will find some of Michigan's best trails in Cheboygan. Take on big hills or roll along gentle terrain and enjoy a peaceful trek through the woods. The area also offers access to hundreds of miles of groomed snowmobile trails for hours of winter adventure. If the trails aren't your speed, grab a pole and head out for a day of ice-fishing on the peaceful frozen lakes.
Winter is a great time to visit Frankfort and Harbor Lights Resort! Located at the edge of downtown Frankfort and on the shore of Lake Michigan, watch the waves crash over the lighthouse. Enjoy the great restaurants, an award winning micro-brewery, and a movie theater. Ski at Crystal Mountain…just 20 minutes away.
Take a short drive up the coast to Sleeping Bear Dunes and the many wineries nearby. Reserve online or call us at 231.352.9614 to book your stay today!
Cabin fever won't be an issue this year! Flight simulators, hands-on learning activities, aerospace exhibits, aircraft restoration, open cockpits, and rides await you at the Air Zoo. Just minutes south of I-94 on Portage Rd., this Smithsonian-affiliated aerospace and science experience is a perfect place to keep your entire family happily entertained. Named a USA Today 10Best, this is sure to be one of the most memorable places you'll ever visit. Come, imagine, explore, and discover at the Air Zoo.
What's the recipe for having the best winter? Snow + outdoors + an adventurous spirit. When snow covers the Traverse City region, the fun is just beginning. Race a sled down the Dune Climb at the Sleeping Bear Dunes, or take your time on a quiet snowshoe hike. Challenge the family to a skiing competition and see who can do the most runs, or glide your way across the cross country trails. You'll get exercise and make memories!
Fenn Valley believes wine should be approachable. Their tours have been designed to help take the mystery out of making world-class wine. The aim is to strike a balance between education and entertainment. Luckily, the subject matter always keeps things interesting! Tours are offered most weekends. The cost is $10/person and reservations are required. Learn more at fennvalley.com/tours.
Mackinaw City is centrally-located to provide snowmobile access to the Straits area. Utilize the north central State Trailhead located off of Crossing's Drive to experience the DNR's groomed routes, connecting Mackinaw to Cheboygan, Petoskey, Gaylord, Rogers City, Alpena and places south. Heading further north? The Mackinac Bridge Authority offers a ride for you and your sled across the Bridge for $15 plus $3.50 additional for an extra passenger to access the trails north of the Mackinac Bridge.
Welcome to winter in south central Michigan's Coldwater Country. As the snow flurries fly, the area's more than 100 lakes, including two chains of lakes, offer anglers the opportunity to hit the ice. Grab the snowshoes, or cross-country skis, and enjoy the tranquility of winter. Heritage Park offers much needed outdoor activity. Or, plan a winter getaway to enjoy the festivities during one of the many winter family events including IceFest and Tip-Up Festival.
Join Chateau Chantal's Ice Wine Festival January 25th for a day-long celebration of all things Ice Wine!
Each January we celebrate our unique ability to grow, harvest, and produce one of the rarest products in the wine industry, Ice Wine! Our tasting room will feature different Ice Wine styles and vintages available for tasting, as well as specialty chocolate and charcuterie pairings. Enjoy an Ice Wine focused vineyard tour, fire pits, S'more kits, and our Founder's Trail (bring your snowshoes!). End the evening by attending our 7-course Fire & Ice Wine Dinner.
Snowshoeing, skiing, and snowmobiling are ways to appreciate the beauty of winter. Allegan County has trails, forests, and hills to challenge outdoor enthusiasts and has breathtaking beauty that defines "winter wonderland". If your pleasures lean more toward shopping and celebrating, there are dozens of places to discover. B&B's throughout the county are ready to pamper guests, while events like chili cook-offs offer plenty of local flavor. Antique stores, art galleries, and gift shops make Allegan County an ideal winter destination.
As the holiday shopping season kicks in and you find yourself searching for a unique and memorable present…give the gift of a sailing adventure aboard the Tall Ship Manitou or Sailing Yacht Scout! With cruises ranging from two hours to five days, there's a gift option for even that most challenging recipient. Give that special someone an experience they'll remember for a lifetime! Visit Traverse Tall Ships and purchase your gift card online or call
800-678-0383.
From hot cocoa and surrey rides to ski slopes and wooded trails, Crystal Mountain is a real winter wonderland waiting for you to explore in northern Michigan. Overnight guests enjoy access to the indoor pool and hot tub, fitness center, spa savings, as well as cozy bonfires. Plus, kids 6 and under sleep, ski, and eat breakfast FREE anytime. Book your stay and get up to 25% off lodging rates on select winter dates. Learn More!